The Rogue Gem and Geology Club's 2019 Gem & Mineral Show has concluded.

We wish to express appreciation to our sponsors for their support and donations as well as all of our volunteers for their tireless dedication towards making this year's show a resounding success.

A big "Thank you!" goes out to all of our vendors and artisans who again put on a fantastic display of their wares and shared their knowledge and passion for rocks, gems and related products, making them readily available to the public so that we too can possess a geological treasure that sparks the imagination and feeds the soul.

To all of our visitors, we couldn't have done it without you.
Well, we could have, but there would have been a lot of toe tapping and clock watching. You're the reason we do this every year and why we want to keep doing it for many years to come. Thanks for stopping by!

We sincerely hope you had a great time, learned something new, found something awesome to take home, made a new acquaintance, or all of the above. Keep on rockin'!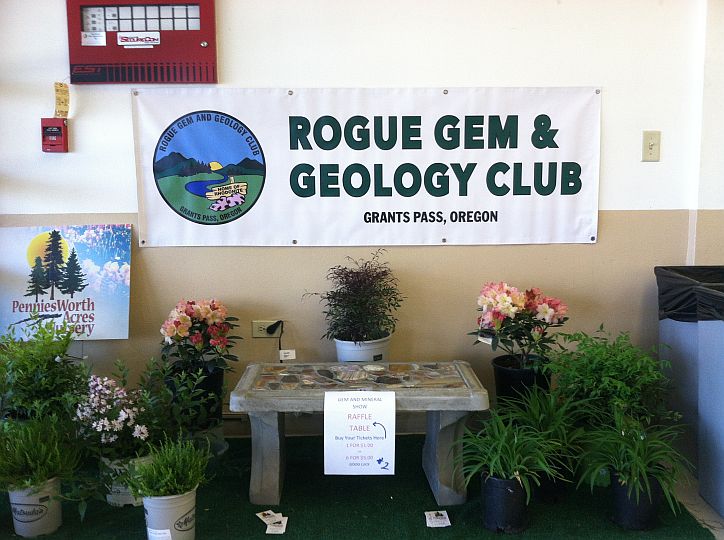 Make plans to join us next Spring on the last weekend of April for the
RGGC 2020 Gem & Mineral Show.

Click to view the Rogue Gem and Geology Club Bylaws in PDF format.

Click to Install Free Adobe Acrobat Reader - (In case you do not have it installed on your machine). The linked page will open in a new tab.

Click to download an RGGC Membership Form in office document format.
This form can be filled out by hand or on your computer.

If you are interested in learning more about our club and what makes us rock drop us a line at rockhoundclub@yahoo.com.

You can also send inquiries and correspondence to:

RGGC
PO Box 1224
Grants Pass, OR 97528.

Connect with us on Facebook: